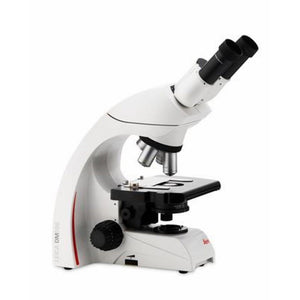 Leica DM 100
Item No: D13613308
---
Click SDS for details
---
The Leica DM100 entry-level compound microscope is designed to be robust and student-friendly for biology and 2-4 year college life science classrooms.
Ideal for the first-time scientist, this sturdy and easy to use fixed stage microscope is the result of Leica Microsystems' 165 years of microscope design and manufacturing experience to allow students to observe the finest details in their life science studies.
This is a new Equipment but with No Warranty.
Feature Details
Maintenance Free
A sealed, brass shaft, focus mechanism provides accurate focusing control over the life of the microscope
Bright Illumination
Leica's EZLite™ LED illumination saves the cost of replacement lamps and provides a cool white light for over 20 years of average use at 80% lower energy consumption
Easy to Use Disc Diaphragm
The rotating diaphragm is color coded to match the color ring on the objective which helps ensure the student will set the diaphragm properly and get the best quality from the optics
Fixed Stage
The fixed stage with spring loaded stage clips (included), is perfect for accurate manual manipulation of the specimen slide under the objective.
---
We Also Recommend